Green chimney and blowing smoke
Submitted by solarkismet on Thu, 2006-12-14 09:27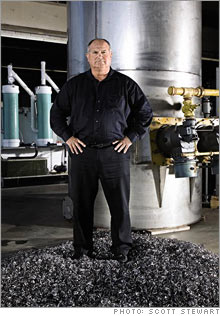 1. CNN is reporting overzealously on a new carbon dioxide mitigation technology in an article, "Green chimney could save the planet" (because one technology is likely THE answer).  But it's worth a read:
"A new experimental technology he calls a liquid chimney that captures the greenhouse gas escaping from coal and natural-gas furnaces and turns it into a harmless material that could be used in construction or even dropped into the ocean to rebuild coral reefs."
Any theories on what the process or material is?
2. And if you think the global warming tide is turning and want a reality check with some right -of-center opinions, read this Katherine "Controversy Sells Papers" Kersten column (the comments from her readers are more interesting). "Global Warming's True Believers Stifle Dissent."
Does global warming science have a communication or believability problem?  And how do you respond to uncited comments in articles, columns, or blog comments that blatantly go against commonly understood scientific principles?